Educational method or tool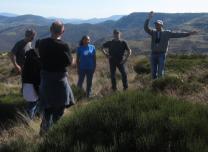 You will find here some tools developed or adapted within the framework of the program Sagiter. You can download them freely, you can also put on-line a tool which you developed, modified or improved.
You can consult these index cards and to have more information, contact their authors by referring to you in the title of the index card.
All these tools are free of rights in creative commons by CC
Add a contribution
The map
CLIM : Cooperative learning into multiculturality - EN
CLIM : Cooperative learning into multiculturality - FR
Q-sorts sur l'agroécologie
Construire un Q-Sort pour la formation
Developing a Q-Sort for training
Enigmas and searching for solutions...
Methodological Transposition Game
Les cartes de controverse
Jeu Méthodologique de Transposition (JMT)
Les énigmes et la recherche de solutions...
Silent walk - exploring the spirit of place (Genius loci)
Une démarche de dialogue autour d'un documentaire sujet à controverse
S'appuyer sur des liens entre réseau professionnels agricoles et formation
Expression des représentations initiales et des premiers questionnements à partir d'une étude de cas filmée
Trainer's manual "Recovery and transmission of Agroecological knowledge"
Approche sensible de l'eau (+vidéo)
L'acquisition de connaissance à travers une approche pédagogique « sensible » et « par la pratique » : les fiches interview
Approche sensorielle et débat mouvant, sur le thème de l'autonomie (+ vidéo)
Approche sensible de l'arbre (+ vidéo)
Word café, exemple sur les semences (+ vidéo)
Jeu de coopération (+ vidéo)
---