Educational method or tool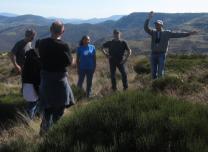 You will find here some tools developed or adapted within the framework of the program Sagiter. You can download them freely, you can also put on-line a tool which you developed, modified or improved.
You can consult these index cards and to have more information, contact their authors by referring to you in the title of the index card.
All these tools are free of rights in creative commons by CC
Add a contribution
The map
Co-construction d'un schéma (+ vidéo) appliqué à la vie du sol
Jeu des familles (+ vidéo) exemple sur la vie du sol.
Caractérisation d'un terroir
Appropriations des savoirs agro écologiques
Nonformal transfer of agroecological knowledge
Questionnaire for students
L'entretien d'explicitation
Video sequences for improvement of agroecological skills
Le tableau des transmissions
Analyse de la conduite d'entretien
Farmers for farmers advisers
Network of organic farmers
Les gestes partages : an experience to live
L'entretien d'autoconfrontation
Le récit de vie / Life story
Methods of knowledge transfer
Depth interviews and qualitative content analysis
Methodology for semi-structured survey
---