Séminaire de Marburg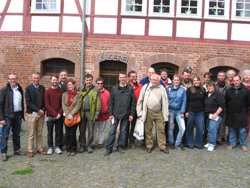 Philipps-Universität of Marbourg, established in 1527, is the oldest Protestant universities of Germany. It lays a role particularly important for the brand image of the city and is closely involved with the municipal identity.
Marbourg is a pleasant student city raised on a hillside
It distinguishes by its castle perched on a spur and by its impressive Gothic church, dedicated to saint Elisabeth. The latter, princess of Hungary come withdraw here to look after the incurably ill, made for a long time of the city a center of pilgrimage. With the Protestant reformation, Marbourg became an important home of Protestant theology..
---
Program
Les réunions de préparation (42.8kB)
Quickguide (0.3MB)
La grille d'évaluation(36.4kB)
Le programme (44.7kB)
Actes du séminaire de Marbourg (0.3MB)
Proceedings of Marburg seminar (0.2MB)
---
Contributions
Efa de Galicia (2.8MB)
Contribution Geyzer (71.3kB)
Contribution Roumanie(0.3MB)
Contribution VLM (0.5MB)
Contribution Hungary (Judith)(0.6MB)
Identification_of_agroecological_knowledge_in_Slovenia.pdf (1.9MB)
---
First tools
Fiche pédagogique de recueil de photos(0.2MB)
Vidéo sur la production de bière en Galicia
Le tableau des transmissions (ph. Barret) (0.6MB)
De la transcription des savoirs à leur analyse (94.6kB)
Mesuring knowleges about sustainable agriculture (Hungary)(27.6kB)
---
Pad
Our pad for taking notes in Florac seminar :
http://pad.cdrflorac.fr/p/sagiter
---